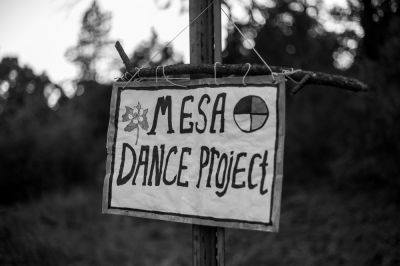 Syzygy Butoh Camp 2018
At the MESA (Movement and Ecology Sanctuary for Art)
June 3rd-8th
The MESA is centered on our relationship with the earth and our own wild, creative souls as understood through individual and group Butoh and Ritual Dance practice. It is a place where we can safely gather to explore our deep honesty, supported by nature in a protected environment.  At the core of the MESA is the premise that indigenous belonging lives within the earth herself and thus within our own bodies.  Dance in nature can be a powerful tool for uncovering, integrating and healing our relations to the earth and our past.  During our time together we train to open the joints and the imagination simultaneously expanding body and mind in relationship with each other and the landscape.  Together we approach the land as a kind of sacred stage where we can confront, search, take risks and be supported in our dreams.  We take the privilege to spend this short time together deeply exploring our creative impulses, deep longings, ancestral memories and dreams for the future.  We focus on opening our energy centers and other gates of the body to liberate and recover ourselves in a ritual blessing for each other, our ancestors and the earth.  Join us this year and touch the matter of your wild soul!
Cost:
$375 Early Bird (before April 1st)
$500 Sleepy Heads (after April 1st)
~ Cost includes 1 group meal for each day of the workshop.
In order to minimize impact on the land space is limited to 12 participants total.  Early registration is recommended to secure a spot.
Register Now!  https://www.eventbrite.com/e/mesa-butoh-dance-camp-2018-tickets-41177576239
Schedule:
June 3rd ~ 4pm meet in Ridgway, CO at the Town Park under the big Cottonwood trees.  Car-pool 15 minutes to the site.  Set up camp, share food, fire and introductions.
June 4th ~ 8th Workshop.
Dinner will be provided each night and is included in the cost of the workshop.  Food preferences, allergies, etc will be assessed individually in creating our meal plan.  Beyond dinner all participants must bring their own food for the duration of the workshop (no resupply). 
Camping will be provided on site, however there are limited amenities.  Please plan to bring your own camping gear.  A basic outdoor group kitchen will be provided for participants to share.  There will be toilets on site.
Ridgway, CO is not close to Denver.  It is six hours distant from both Salt Lake City and Denver.  You will need to arrange your own travel.  Driving is easiest although it is possible to fly into Montrose and we can help coordinate rides to and from the airport.
The MESA workshop takes place on 80 acres of Piñon-Juniper wilderness protected by a conservation land trust established by my great aunt and uncle.  This land has been in my family for almost 40 years.  Since that time it has remained a sanctuary for animals, plants, invisible beings, family, friends, humor and art.
Butoh is a dance movement that originated in Japan shortly after WWII.  Tatsumi Hijikata, the foremost pioneer of Butoh, developed a new language of dance derived from the natural and even the shadow side of the human being.  It is characterized by movements that tend towards the earth and the unconscious.  Instead of aspiring to an aesthetic ideal Butoh reveals the human being and his inner world.  It implies total presence where dance is an expression of being in the world as well as containing the world within oneself.  It grows from such themes as androgyny, rebellion and the natural cycles of life and death.    
Syzygy Butoh Weekly Classes
Portland, OR 2017-18
Sundays December 10-January 28th 4-6pm (No class on Christmas Eve)
Please join us to expand deeply into the world of your creative impulses, deep longings, ancestral memories and visions for the future.  What does it mean to you to move in a sacred manner?  How do you access the medicine/power of your own vision?  What happens when we trust the body to guide the mind and the mind to guide the body?  We dance a hundred scenarios through our thoughts but the hundred and first reveals itself from the corner of the minds eye guiding you along the path.  How to move into that vision again and again, step by step?    Syzygy Butoh starts with the premise that indigenous belonging lives within the Earth herself and thus within our own Bodies.  How to live/dance more closely with this Earth/Body in all of her forms?  Beauty, Death, Grief, Praise and Transformation, relationship with all Her faces.  Together we will approach these kinds of questions through dance.  See you there.
$20 class ($35 if you can afford).


At the Waterline Studio
55 NE Farragut St. #4 (entrance at front of building, next to North Portland Yoga)