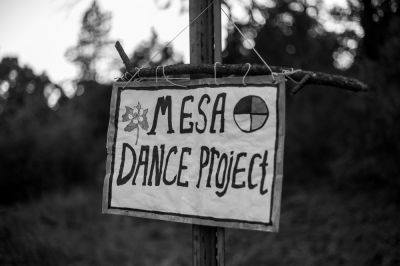 MESA (Movement & Ecology Sanctuary for Art)
Ritual Dance Camp 2021
June 1st - 6th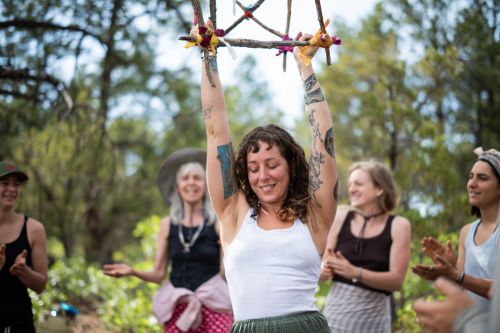 $425 Early Bird (paid in full before April 15th)
$550 Sleepy Heads (after April 15th)
Space will be limited to 10 participants.  A $100 (non refundable) deposit will secure your spot.
Register by sending an email to syzygybutoh@gmail.com

In this modern world of transactions, competition and dualistic thinking we all need a place where we can experience love, acceptance and meaning.  Clearly, we need moments where we can encounter our self, each other and life through the wholeness of love.  A love that embraces and values our differences and contradictions. Together we can make the MESA a place where such an encounter is possible.  The MESA is a sanctuary of nature and the soul.  It is a place to cultivate a way of seeing and relating with things just as they are…  This means dancing with all of our sides, bringing our inner and outer diversity to the workshop.  It means a radical commitment to honesty, vulnerability and openness. This implies a willingness to put aside the part of us that thinks it knows.  So many of us were trained to find out what we want and then go out and get it, make it happen.  The MESA is not a place to "get what we want."  Rather it is a place to cultivate humility and joy in the face of the great mystery of life.

The MESA is a co-created experience.  Nathan will facilitate warm-ups, dance experiences, rituals and improvisational structures towards a process of cooperative creation.  This includes physical training to open the joints and increase our capacity for movement.  It also includes opening the imagination through our physicality in relationship with each other and the land.  

The core intention of the workshop will be to support each participant in a personal dance ritual.  The term "dance ritual" describes a creative structure of time, place and action in service of a personal or collective intention.  This can be transformative, healing or even mystical in nature.  Each person will choose a specific site on the land and through a process of solo exploration, group support and guidance by Nathan they will have the opportunity to create a ritual dance score.  Although each participant directs their own score it is approached as a collaborative process.  In addition to this we will culminate the workshop with a group ritual performance for a small audience.  

The MESA takes place on land protected and managed by the Colorado West Land Trust.  As such, the land is valued for itself and not as a resource for development or exploitation.  The MESA project takes this same approach to our human nature and the landscape of our souls.  

A very simple dinner will be provided each night and is included in the cost of the workshop.    Food preferences, allergies, etc will be assessed individually in creating our meal plan.  Beyond dinner all participants must bring their own food for the duration of the workshop (no resupply). 

Camping will be provided on site, however there are limited amenities.  Please plan to bring your own camping gear.  A basic outdoor group kitchen will be provided for participants to share.  There will be toilets on site.

Ridgway, CO is not close to Denver.  It is six hours distant from both Salt Lake City and Denver.  You will need to arrange your own travel.  Driving is easiest although it is possible to fly into Montrose and we can help coordinate rides to and from the airport.



We will still have to take certain precautions together concerning the Covid pandemic.  This will depend some on what develops in the months leading up to the workshop.   I encourage anyone hoping to attend to do their best to receive a vaccination before the workshop.  Even with good practices to minimize exposure there will be an inherent risk in participating this year.  All attending will be asked to acknowledge such risks before arriving.  

The following steps will be taken to minimize the risks.

Anyone experiencing symptoms of Covid 19 within 3 days before the workshop will be asked to not come.  Anyone who cannot attend because of contracting the virus or having symptoms of the virus will be given a full refund.  No refunds after workshop begins.  

Masks will be worn when in group proximity.

There will be access to hand washing systems in place at all times.

Anyone experiencing symptoms related to Covid 19 during the workshop will not be able to participate in group activities.  

It's possible we will have to limit close contact or touch all together.  This will be assed as a group.

Everyone will practice food safety standards in the outdoor kitchen.  There will be a hot water and bleach dishwashing system.  Surfaces will be disinfected regularly and use of gloves may be required.

About the facilitator:  Nathan Montgomery is a dance artist and facilitator of ritual dance workshops and community offerings.    Nathan brings twenty years of experience in Butoh Dance, Dance Improvisation, Movement Theater and Ritual/Ceremonial dance traditions to his workshops.  He has distilled this experience into a format of ritual dance process to support the basic need for an embodied expression of meaning in ones life.  His work supports people to access their feelings, visions, intuitions and deep memory through integrative movement exercises.  By opening the joints, chakras and other gates of the body these exercises allow for healing, insight and the recovery of raw life force.  The format is both improvisational and technical.  There is a strong emphasis on relationship and the cultivation of energy in a group ritual context.  Throughout his workshops participants have a chance to explore and integrate their many sides including the shadow and the light.